HomePage
>
Components and HowTos
---
CategoryMenu
ARM CPU
Puppy info
Alpha Puppy + Wheezy Debian build being compiled and further code from
Raspbian
(Debian Wheezy build for Rpi) being added
Raspi Alpha 2
Barry, I am great Puppy fan and run Puppy on my netbook and an ancient Acer laptop. Love it.
Just loaded Alpha 2 on to my Raspi. What a difference after a week of messing about with the other distros, SOMETHING THAT WORKS.
Raspberry Foundation take note this is what the majority of us want.
Brilliant
Thanks.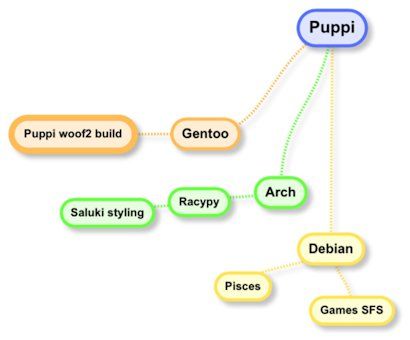 What is the current status?
Have boards: Antiloquax, (
RacyPy
developer), John Murga (forum owner, puplet developer, creator of Murga Lua programming language), Lobster, Rhadon, MrGreen,
BarryK
(creator of Puppy Linux), Shadow
Boards on order: Raffy, Sickgut, Dinor
Antiloquax working from Arch
Sickgut planning to create console Puppi with Debian (possibly leading to SFS)
Shadow looking at C code of gtkdialog
Can I burn SD img files from a Mac?